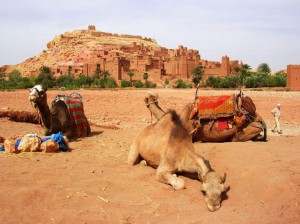 Throughout this Imperial City, Coast, Desert & Mountain Tour you will be immersed in Berber and Arab cultures mingling with African ways of life which are closely tied to ancient traditions. You will visit souks (markets), Imperial cities and World Heritage sites. As well as Kasbahs, palaces, Berber villages and Roman ruins. Your accommodation will see you staying in medina riads and ancient kasbahs and much more.
You will be exploring some of the most interesting sites in this land of amazing and complex history and visit exotic Marrakech before heading across the High Atlas mountains to the UNESCO World Heritage site of Ait Ben Haddou, also known as the gateway to Sahara. There may be opportunity to drive off road through the volcanic Saghro Massif to the heart of the Sahara desert and camel trek to spend the night in the Erg Chebbi dunes watching the sunset over the tallest sand dune in the Sahara Desert.
If you don't want to complete all areas of this Imperial City, Coast, Desert & Mountain Tour you may want to consider our smaller tours that cover just part of this itinerary. You can choose from our popular 3 Day Sahara Tour, or a 7 Day Imperial City Tour or if you feel more adventurous you may want to consider one of our trekking tours in the High Atlas Mountains.
Whichever tour you choose you will be accompanied by a guide and driver who will make sure that all your needs are met and provide you with information on all of the different places you will visit. Bringing your camera is essential as you will want to capture these memories to look back on when you go home.