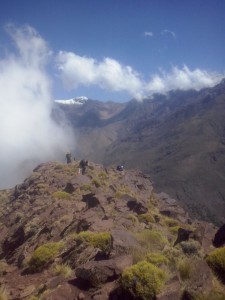 A perfect combination of trekking in the High Atlas Mountains and Sahara Desert for those who want to experience both extremes of Morocco's climate. This itinerary will give you an opportunity to discover a real Berber life and experience the culture, traditions and heritage. At 4,167m, Mount Toubkal (4167m) is Morocco's highest mountain. This challenging summit takes courage and dedication but once summited, the panoramic view from the top makes all the hard work worth while! You can stand and see the range of the mountains and get your first glimpse of the Sahara Desert you will trek later in your tour.
Once Mount Toubkal is under your belt, you will be driven on to discover the surreal but stunning landscape of the Sahara. Here you will pass through old fortified villages and Berber castles, know as Kasbahs. The Sahara region is undoubtedly the most diverse in its landscape and tastes as you will discover.
If you don't want to combine the Atlas Mountains and Sahara Desert in one tour you may wish to consider either our Atlas Mountains Treks or the range of Sahara Desert Tours that we offer. We will also happily amend any itinerary to suit individual needs.