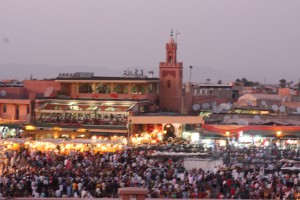 The Imperial City Tour of Morocco is an excellent introduction to Morocco's centuries-old culture in a remarkably short space of time. You will visit Morocco's three most beautiful imperial cities, ancient strongholds with maze-like streets surrounded by towering walls. You'll see colourful markets, grand mosques, Koranic schools and ancient palaces. You'll visit splendid Roman ruins, Morocco's most important pilgrim city, its capital city and the snow-capped mountains of the High Atlas.
This tour starts in Casablanca but it is possible to start it in another city if you wish. Just let us know where you would like to start and we will arrange a new itinerary for you. We can also include airport transfers so that your Imperial City Tour of Morocco will start from the minute you land until the minute we return you to the airport for your flight home.
If you feel that you want to spend more time in the different cities we can reduce the number of cities visited or you may want to extend it to a 10 day tour. Whichever tour you choose you will be accompanied by a guide and driver who will make sure that all your needs are met and provide you with information on all of the different places you will visit. Bringing your camera is essential as you will want to capture these memories to look back on when you go home.