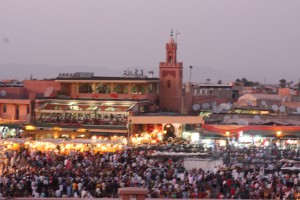 This Marrakech Walking Tour will allow you to see a number of historical areas of Marrakech and hear the stories and heritage of them.
The name Marrakech originates from the Amazigh (Berber) words mur (n) akush, which means "Land of God." It is the third largest city in Morocco after Casablanca and Rabat, and lies near the foothills of the snow capped Atlas Mountains.
The city is divided into two distinct parts: the Medina, the historical city, and the new European modern district called Gueliz or "Ville Nouvelle". The Medina is full of intertwining narrow passageways and local shops full of character. In contrast, Gueliz plays host to modern restaurants, fast food chains and big brand stores.
There is much to see and do in Marrakech. An entire day can be dedicated to wandering around all the different souks, seeking out the best bargains. The city also offers several historical and architectural sites as well as some interesting museums. Taking this Marrakech walking tour will give you the opportunity to see all of these without missing any out.
We'll take you to see the monuments and palaces of Marrakech on a full-day private tour. You'll enjoy the city's historical gardens and the artists and entertainers at Djemaa el-Fna square and experience the exotic atmosphere of the medinas and souks.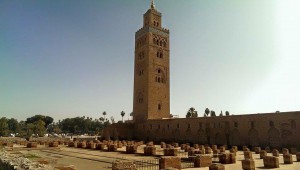 Places of interest include Djemaa El-Fna, The Souks, Koutoubia Mosque, Saadian Tombs, Dar Si Said Musuem, El Bahia Palace, El Badi Palace and The Menara Gardens.

Your guide will talk to you about the places of interest you wish to visit and build your day's intinerary based on this.

NOTE: A Marrakech Walking Tour can be taken as a half day tour or a full day tour

Deprecated: Function get_magic_quotes_gpc() is deprecated in /customers/c/b/d/marrakechdaytrips.com/httpd.www/wp-includes/formatting.php on line 4358


Notice: Trying to access array offset on value of type bool in /customers/c/b/d/marrakechdaytrips.com/httpd.www/wp-content/plugins/simple-fields/functions.php on line 1838 Notice: Trying to access array offset on value of type bool in /customers/c/b/d/marrakechdaytrips.com/httpd.www/wp-content/plugins/simple-fields/functions.php on line 1853 Notice: Uninitialized string offset: 0 in /customers/c/b/d/marrakechdaytrips.com/httpd.www/wp-content/themes/MarrakechDayTrips/single-excursions.php on line 32 Warning: Illegal string offset 'selected_value' in /customers/c/b/d/marrakechdaytrips.com/httpd.www/wp-content/themes/MarrakechDayTrips/single-excursions.php on line 32 Notice: Uninitialized string offset: 0 in /customers/c/b/d/marrakechdaytrips.com/httpd.www/wp-content/themes/MarrakechDayTrips/single-excursions.php on line 32 Warning: count(): Parameter must be an array or an object that implements Countable in /customers/c/b/d/marrakechdaytrips.com/httpd.www/wp-content/themes/MarrakechDayTrips/single-excursions.php on line 32