Marrakech Day Trips would like to welcome you to Morocco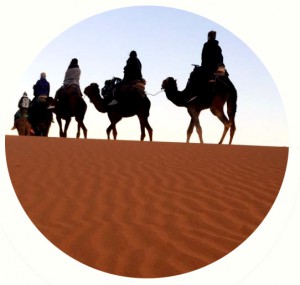 Marrakech Day Trips can offer you the opportunity to experience areas of Morocco that other tour companies can't. Whether you  want to trek in the Atlas Mountains around the Berber villages or to the summit of Toubkal (the highest peak in North Africa at 4167m); experience the amazing sunset and sunrise over the sand dunes of the Sahara Desert or explore the heritage and culture of cities such as Marrakech, Fes, Chefchaouen and the UNESCO World Heritage Site of Ait Ben Haddou; Marrakech Day Trips can offer you an experience you will never forget!
Some of our most popular tours/excursions will take you trekking in the Atlas Mountains; to see the beauty of the waterfalls in Ourika Valley or Ouzoud Waterfalls; to visit the Sahara Desert and places such as Ait Ben Haddou, Ouarzazate and Merzouga; and to cities including Essaouira, Casablanca and Agadir. If you are looking at getting away from the normal excursions and tours, we at Marrakech Day Trips can also help you with this.
With over 20 years experience of trekking in Morocco between us, I (Ahmed Amzil) and my brothers (Ibrahim and Hassan) along with our professional team of guides, drivers, multeers and caterers will work closely with you to design bespoke tours to meet all of your needs. Marrakech Day Trips pride ourselves on the excellent level of customer service that we offer, nothing is too much trouble to arrange.
Berber born and bred, we all have trekking in our blood and are proud to share our country and heritage with you. We are fluent in English, French and Arabic and can also provide German and Spanish speaking guides as well.
Our services include arrangements for accommodation, transportation and guided excursions and trekking throughout Morocco. Whether you are traveling solo or in a group and/or looking for a cultural or adventurous experience we are here to work with you customising the perfect itinerary for your holiday.
Notice: compact(): Undefined variable: limits in /customers/c/b/d/marrakechdaytrips.com/httpd.www/wp-includes/class-wp-comment-query.php on line 853 Notice: compact(): Undefined variable: groupby in /customers/c/b/d/marrakechdaytrips.com/httpd.www/wp-includes/class-wp-comment-query.php on line 853
Deprecated: Function get_magic_quotes_gpc() is deprecated in /customers/c/b/d/marrakechdaytrips.com/httpd.www/wp-includes/formatting.php on line 4358

Deprecated: Function get_magic_quotes_gpc() is deprecated in /customers/c/b/d/marrakechdaytrips.com/httpd.www/wp-includes/formatting.php on line 4358 Deprecated: Function get_magic_quotes_gpc() is deprecated in /customers/c/b/d/marrakechdaytrips.com/httpd.www/wp-includes/formatting.php on line 4358 Deprecated: Function get_magic_quotes_gpc() is deprecated in /customers/c/b/d/marrakechdaytrips.com/httpd.www/wp-includes/formatting.php on line 4358 Deprecated: Function get_magic_quotes_gpc() is deprecated in /customers/c/b/d/marrakechdaytrips.com/httpd.www/wp-includes/formatting.php on line 4358 Deprecated: Function get_magic_quotes_gpc() is deprecated in /customers/c/b/d/marrakechdaytrips.com/httpd.www/wp-includes/formatting.php on line 4358 Deprecated: Function get_magic_quotes_gpc() is deprecated in /customers/c/b/d/marrakechdaytrips.com/httpd.www/wp-includes/formatting.php on line 4358 Deprecated: Function get_magic_quotes_gpc() is deprecated in /customers/c/b/d/marrakechdaytrips.com/httpd.www/wp-includes/formatting.php on line 4358 Deprecated: Function get_magic_quotes_gpc() is deprecated in /customers/c/b/d/marrakechdaytrips.com/httpd.www/wp-includes/formatting.php on line 4358 Deprecated: Function get_magic_quotes_gpc() is deprecated in /customers/c/b/d/marrakechdaytrips.com/httpd.www/wp-includes/formatting.php on line 4358 Deprecated: Function get_magic_quotes_gpc() is deprecated in /customers/c/b/d/marrakechdaytrips.com/httpd.www/wp-includes/formatting.php on line 4358 Deprecated: Function get_magic_quotes_gpc() is deprecated in /customers/c/b/d/marrakechdaytrips.com/httpd.www/wp-includes/formatting.php on line 4358 Deprecated: Function get_magic_quotes_gpc() is deprecated in /customers/c/b/d/marrakechdaytrips.com/httpd.www/wp-includes/formatting.php on line 4358 Deprecated: Function get_magic_quotes_gpc() is deprecated in /customers/c/b/d/marrakechdaytrips.com/httpd.www/wp-includes/formatting.php on line 4358 Deprecated: Function get_magic_quotes_gpc() is deprecated in /customers/c/b/d/marrakechdaytrips.com/httpd.www/wp-includes/formatting.php on line 4358 Deprecated: Function get_magic_quotes_gpc() is deprecated in /customers/c/b/d/marrakechdaytrips.com/httpd.www/wp-includes/formatting.php on line 4358 Deprecated: Function get_magic_quotes_gpc() is deprecated in /customers/c/b/d/marrakechdaytrips.com/httpd.www/wp-includes/formatting.php on line 4358 Deprecated: Function get_magic_quotes_gpc() is deprecated in /customers/c/b/d/marrakechdaytrips.com/httpd.www/wp-includes/formatting.php on line 4358 Deprecated: Function get_magic_quotes_gpc() is deprecated in /customers/c/b/d/marrakechdaytrips.com/httpd.www/wp-includes/formatting.php on line 4358 Deprecated: Function get_magic_quotes_gpc() is deprecated in /customers/c/b/d/marrakechdaytrips.com/httpd.www/wp-includes/formatting.php on line 4358 Deprecated: Function get_magic_quotes_gpc() is deprecated in /customers/c/b/d/marrakechdaytrips.com/httpd.www/wp-includes/formatting.php on line 4358 Deprecated: Function get_magic_quotes_gpc() is deprecated in /customers/c/b/d/marrakechdaytrips.com/httpd.www/wp-includes/formatting.php on line 4358 Deprecated: Function get_magic_quotes_gpc() is deprecated in /customers/c/b/d/marrakechdaytrips.com/httpd.www/wp-includes/formatting.php on line 4358