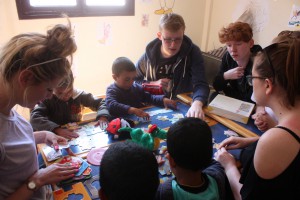 If you are looking to complete a community project in Morocco we can help you either find a project to join or provide you with an opportunity to complete your own project. Through fund raising and practical community work or service projects, you can help make a difference in a practical and visible way to the remote communities in the High Atlas Mountains.
Our community projects are challenging, rewarding, great fun and bring you into contact with the hospitable and welcoming Berbers of the High Atlas Mountains here in Morocco. We will work with you to help you decide on a project to participate in which could include repairing footpaths and irrigation channels in the mountain villages, litter collection, engaging local children in play and craft projects. You may like to fund-raise or collect materials for a specific project before your trip, and spend your day in your chosen project area putting your efforts to good use.
After you have completed your community project in Morocco you may want to see some more of the country. We can help to build an itinerary for any budget to allow you to see places such as the Sahara Desert, the High Atlas Mountains, Imperial Cities and Atlantic Coast.