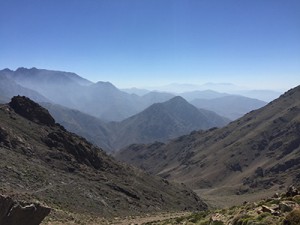 Two days spent completing the Imnane and Imlil Valleys trek in the high peaks of the Atlas Mountains are a perfect combination of an introduction to trekking and traditional Berber culture.
The Imlil and Imnane Valleys are home to tiny hamlets and villages of the ethnic Berbers, a herding and farming community. You can visit their homes and have the chance to drink mint tea with them and learn more about their traditions and customs. You will be able to see their terraced fields of corn and barley and get a glimpse of their day to day living.
At every point of your trek you will be rewarded with great views of the Atlas Mountains and Mount Toubkal, the highest peak in North Africa.
If you are looking to spend more time trekking in the Atlas Mountains you might like to consider our 3 or 4 day 3 Valleys & Berber Villages Trek or a more challenging trek in the 3 Day Toubkal Trek. Want to combine your time in the Atlas Mountains with some time in the Sahara Desert? Then one of our combined Atlas Mountains and Sahara Tours may be something that you are interested in. We are very flexible in terms of planning your itinerary and will be more than happy to create a bespoke one to meet your needs and interests.