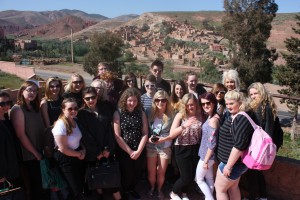 Are you looking for an itinerary for your group tour to Morocco? Whether you are a Travel Agent / Tour Operator specialising in group holidays, educational establishment (school, college or university), a special interest group (e.g. photography, surfing or yoga), a community project group (Scouts, Guides or Charity based) or any other type of group Marrakech Day Trips can organise your full itinerary starting from the minute we meet you at the airport right up until the minute we wave you goodbye. All you need to do is book your flights!
We have organised a number of tours for different groups including:
New College Telford (UK) – Tourism based tour with community work included
University of Brighton (UK) – Geography
Canterbury College – Sahara Desert Tour
Adventure Alternative  – Toubkal Ascent
Ampify Travel – Photography Tour
Educational Tours:
Our tours for educational establishments can cater for a number of subjects including Travel & Tourism, Hospitality & Catering, French Language, Geography, Art & Design and Religious Studies plus many more. All you need to do is provide us with details of your specification / curriculum which you would like us to ensure are covered and we will provide you with a choice of places to visit to meet your needs.
For more details on the educational tours we can provide please see the Education Tours page
Special Interest Groups (e.g. photography, surfing or yoga):
All you need to do is tell us the types of things you would like to photograph, the areas you would like to surf, the number of hours of yoga you would like to do etc. and we will design an itinerary that will provide you with the opportunities to carry out your special interest and also allow you to see a number of Morocco's sites as well. We can organise surfing tutors for you but we recommend that you organise photography and yoga tutors to travel with you.
For more details on the Special Interest Groups we can provide for please see the Special Interest Groups page
Community Project Groups (Scouts/Guides & Charity Based):
We can offer a number of different opportunities for you to work with the communities of the Berber villages. Through fund raising and practical community work or service projects, you can help make a difference in a practical and visible way to these remote communities.
Our projects are challenging, rewarding, great fun and bring you into contact with the hospitable and welcoming Berbers of the High Atlas Mountains. We will work with you to help you decide on a project to participate in which could include repairing footpaths and irrigation channels in the mountain villages, litter collection, engaging local children in play and craft projects. You may like to fund-raise or collect materials for a specific project before your trip, and spend your day in your chosen project area putting your efforts to good use.
For more information on the Community Project Groups we can provide for please see the Community Project Groups page