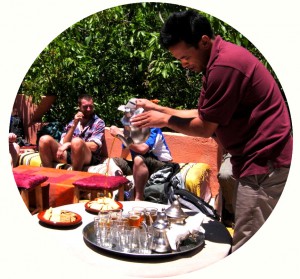 Marrakech Day Trips has bases in Marrakech and Imlil (High Atlas Mountains). Owned by myself, Ahmed Amzil and my brothers Ibrahim and Hassan, we are fully certified mountain guides and have over 20 years experience guiding and trekking in Morocco including the Atlas Mountains and Sahara Desert.
Marrakech Day Trips' Objectives:
To always exceed our customers' expectations in relation to the service we offer
To ensure that you leave Morocco and your time with us with memories that will last a lifetime
To share our heritage and culture with you through our knowledge of Berber history and our beautiful country
Why you should choose Marrakech Day Trips for trekking in Morocco:
We are Graduates from Mountain Guides School (CFAMM) and the "Royal Moroccan Federation of Skiing and Mountaineering"
We are Accredited Wild country Assessors for Expeditions in Morocco and Members of the Guides Association in Imlil
Our leaders and guides have undertaken the Wilderness First Aid Medical Course and they are competent to deal with all situations
Your safety is our number one priority above everything else.
Our guides, porters and mule handlers are all Berbers, local to the area and are and treated ethically and responsibly
We are ecologically aware and practice sustainable tourism and will not do anything to damage the beautiful environment we live in
We are official guides for multiple international trekking companies
We have many years experience trekking in Morocco
Marrakech Day Trips' Services:
Full arrangements of hotels or Riads with options to choose depending on your budget
Airport transfers
Instant 24 hour emergency contact
Group incentives
Full transportation arrangements throughout your trip in air conditioned vehicles, with fuel charges included in the price
Organisation of day trips and multi day trips
Organisation of cultural tours and programs through Berber villages and cities such as Marrakech, Essaouira, Ourzazate, Fes and Casablanca
Excursion arrangements throughout Morocco including: camel trekking, desert camping, 4×4 adventure through desert dunes, hiking and gorge climbing
Whether you are traveling alone or in a group, have a particular destination in Morocco in mind, want to experience the Sahara Desert, the Imperial Cities or just spend time trekking in Morocco, or want to book one of our stated tours do not hesitate to contact us at Marrakech Day Trips.
Tour Operators:
If you are a tour operator, we can organise all of the in-country logistics necessary for your trek. We have many years of experience and know the country and the area very well. You may be surprised at how much time, money and effort we can save you.
School Trips:
Marrakech Day Trips are happy to organise trips for your school, community project or Duke of Edinburgh students. We can organise trips in the High Atlas Mountains, the Sahara Desert and the Imperial Cities or any other area of your choosing. Please get in touch to discuss this further.