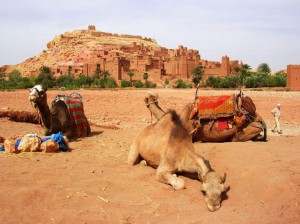 On this day trip to Ait Ben Haddou and Ouarzazate you will enjoy a scenic journey into the High Atlas Mountains to the Tizi n'Tichka Pass (2,260m). Our first stop of the day is at Telouet, a village on the 'Route of the Caravans' from the Sahara over the Atlas Mountains to Marrakech. Telouet has one of the most spectacular Kasbahs in the Atlas, which was once the palatial residence and headquarters of the powerful Glaoui tribe. This forgotten Kasbah holds a labyrinth of opulent rooms, maintaining a ghost of the splendour and glory of what it once beheld.
As you descend down onto the East side of Morocco you will notice a dramatic shift in the landscape changing to a more arid and desert terrain.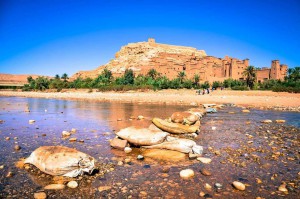 Next, taking a little used back road we arrive at Ait Ben Haddou. Inscribed by UNESCO in 1987 as a 'World Heritage Site', the Kasbah of Ait Ben Haddou is a striking example of the architecture of southern Morocco. The Kasbah, a group of earthen buildings surrounded by high walls, is a traditional pre-Saharan habitat. The houses crowd together within the defensive walls, which are reinforced by corner towers. After a guided tour of the ancient settlement be sure to walk up to the high point on the hill above the Kasbah for particularly fine views.
After lunch and depending on the time you can take a detour via the film studios at Ouarzazate for a picture outside the studios before heading back across the Tizi n'Tichka Pass and back to Marrakech. You should expect to be back in Marrakech for approx. 7pm