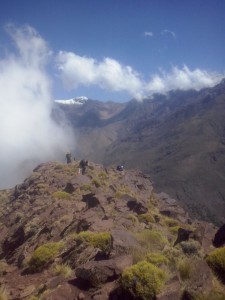 This 2 day Toubkal Trek will allow you the chance to trek to the summit of Mount Toubkal which is the highest peak in North Africa at 4167m. This 2 day trek offers a trekking experience to the peak which involves no climbing.
The itinerary for this 2 day Toubkal Trek has been designed for keen walkers, as the ascent is non-technical, but does involve some easy scrambling and snow slopes (only in the winter).
The tour starts from Marrakech and you transfer to the village of Imlil where you will meet your guide. You will then trek with your guide, mule and muleteer and private cook, learning about the Berber culture and heritage during your trek.
Make sure you bring your camera as the views from the summit of Mount Toubkal are amazing across the mountains to Marrakech to the north, and the start of the Sahara to the south. During this 2 day Toubkal Trek you will be rewarded with stunning views of the Atlas Mountains, green valleys and Berber villages. If you choose to do this itinerary between November and April the two days will involve walking in crampons and using ice axes.
We also offer a 3 Day Toubkal Trek which allows you to have the same experience but the walking is slightly shorter over the three days and is not as challenging.