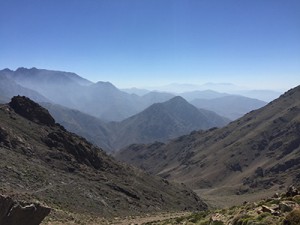 The Imlil to Setti Fadma Trek will take you from the village of Imlil, at the foot of Mount Toubkal, through a string of Berber villages and through the Valley of Ourika to Setti Fadma.
During this trek you will discover the high peaks of the Atlas Mountains that surround the valley. Each day will provide you with different views of the High Atlas Mountains and different challenges in terms of the varying levels of altitude you trek through. You will pass through many Berber villages where you will be able to spend time with the local communities and even take mint tea with a family.
You can choose to spend the nights camping or you can stay in Berber Gites. On average you will trek for approximately 5 hours a day but it will be taken at a pace that you are comfortable with. A mule, muleteer and guide will be with you all the way taking care of your every need, all you need to concentrate on is walking and enjoying the amazing views!
You could extend your hike by choosing to go from Setti Fadma to Imlil and end with an ascent to the summit of Toubkal, the highest peak in North Africa. We are very flexible in terms of our itineraries and will create one to suit your needs and interests. Please get in touch to discuss your requirements and let us help you build an itinerary to give you memories that will last a lifetime!