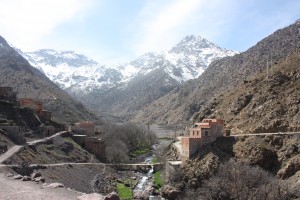 The 4 Day 3 Valleys & Berber Villages Trek in the Atlas Mountains is a perfect introduction to trekking in Morocco. It will provide you with an insight into authentic & traditional Berber culture as well as some amazing views of the High Atlas Mountains.
During the 4 days you will hike amongst cool vegetation with juniper and pine trees for perfect shade breaks, across deep gorges, gushing river streams and groves of cherry and walnut trees. You guide will explain the culture and history behind the different areas you trek through, spending time in many different Berber villages along the way.
Whilst walking through the valleys you will come across many Berber villages and hamlets belonging to the ethnic Berbers. These herding and farming communities are used to tourists and are more than happy to allow you to interact with them to know more about their traditions and customs and will be more than happy to invite you into their homes to have mint tea with them.
You will be accompanied by a mule, muleteer and guide every step of the way who will take care of your every need, all you need to do is walk and enjoy the scenery.