On a tight timescale but want an opportu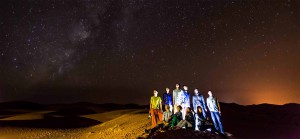 nity to discover the Moroccan Sahara? This 2 day camel trek in the Sahara Desert in Morocco is perfect for you to become acquainted with the environment of the Sahara Desert.
You will experience Berber Kasbahs, remote sand dunes, camels and beautiful gorges on your journey to Zagora. You will also get the opportunity to spend the night in a nomad tent or sleeping under the stars in the silent surroundings of the sand dunes. Your journey to and from the camp will give you the opportunity to ride a camel and experience the wild, ancient Sahara in a safe and beautiful way.
If you want to spend more time exploring this region of Morocco then we also offer a 3 day Sahara Desert tour and a 4 day Sahara Desert tour. Whichever tour you choose you will be accompanied by a guide and driver who will make sure that all your needs are met and provide you with information on all of the different places you will visit. Bringing your camera is essential as you will want to capture these memories to look back on when you go home.