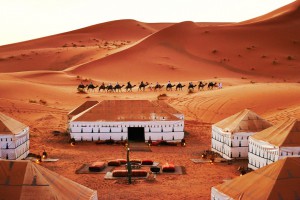 This 4 day Luxury Desert Experience into the Sahara Desert in Morocco will not only take you into the heart of the Moroccan Sahara Desert but also allow you to spend time at the famous World Heritage Site, Ait Ben Haddou.
You will see Kasbahs, orange sand dunes large and small, oases, distant mountain summits, the Valley of a Thousand Kasbahs, the 'Moroccan Hollywood' and sunrises and sunsets so beautiful you will never forget them. You will also spend your time riding camels which are the natural choice for riding through the arid beauty of the Moroccan desert.
You will travel in luxury in one of our 4 x 4 air conditioned vehicles and stay in the Luxury Desert Camp site under the stars and in high quality hotels in Dades Valley and Ait Ben Haddou. Your guide and driver will make sure that all your needs are met and discuss your itinerary with you every day to make sure you are happy with it.
We also offer 2 or 3 day tours to the Sahara Desert as well as a day excursion to Ait Ben Haddou if you are tight for time but would like a taster of the Sahara.