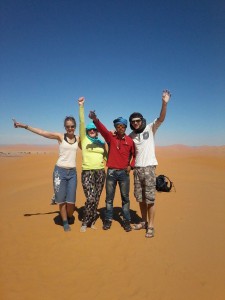 Our 7 day Southern Desert and Camel Trek in the Sahara Desert, Morocco will provide you with experiences that you will never forget. Nothing can beat trekking in the Sahara Desert and walking along the ridge of a dune in the late afternoon with nothing around you but sand, tranquillity and open blue sky.
This is an experience that cannot be described or explained but once you have sampled it you will want to return in the future. Finding the ideal camping area for the evening, and sitting on the dunes watching a breath-taking sunset is one of the most picturesque experiences and one that you will never forget. At night clear skies filled with bright stars and the silence of the desert surrounding you makes for a vivid contrast to the intensity of Marrakech at night.
Each day you will trek, supported by your guide and camel team to your next camp site. Your private cook will make sure that you have delicious meals whenever you are ready to stop and eat.
Trekking in the Sahara Desert will provide you with an experience that you can't get with any other company in Marrakech. We are happy to lengthen or shorten the trekking part and also build in some other places to visit if you prefer. Just get in touch and tell us what you want and we will build a perfect itinerary for you.