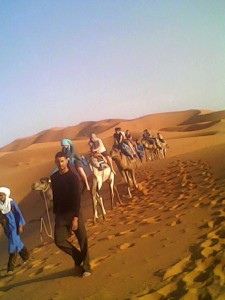 Discover the beauty of the Moroccan Sahara Desert, Berber Kasbahs, remote sand dunes, camels and beautiful gorges with our Sahara Desert Trek choices.
You can watch the sun set and rise over the dunes providing with you with magical experience you will never forget. Our 3 and 4 day Sahara Desert Trek in the Sahara Desert in Morocco will take you into the heart of the Moroccan Sahara Desert. You will see Kasbahs, orange sand dunes large and small, oases, distant mountain summits, the Valley of a Thousand Kasbahs, the 'Moroccan Hollywood' and sunrises and sunsets so beautiful you will never forget them. You will also spend your time riding camels which are the natural choice for riding through the arid beauty of the Moroccan desert.
Whichever Sahara Desert Trek you choose you will be accompanied by a guide and driver who will make sure that all your needs are met and provide you with information on all of the different places you will visit. Bringing your camera is essential as you will want to capture these memories to look back on when you go home.