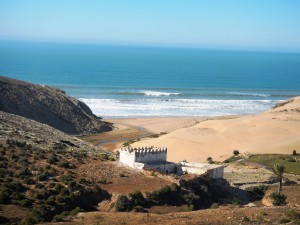 Morocco is famous for many things such as the imposing Atlas Mountains, the exotic souks of Marrakech and the rich Arabic and Berber cultures.  Less well-known is the spectacular Atlantic coastline. Our 7 Day Atlantic Coast Trekking Tour which is a relaxed one-week trip follows coastal paths to the attractive town of Essouira.
On the way we pass secluded fishing villages, Argan tree orchards, deserted sandy beaches and rocky cliff tops.  As a constant companion, we have splendid sea views and the roar of the crashing Atlantic surf. You can choose to camp each night or stay in small guesthouses.
The trip is led by one of our experienced local guides, assisted by the camp and cooking staff.  A caravan of camels will carry our luggage. We end the trip with relaxing free time in both Essouira and Marrakech.
If you are looking for more adventurous trekking you may want to consider one of our Atlas Mountain Treks or we would be happy to create you an itinerary which combines the experience of both the Atlas Mountains and the Atlantic Coast.
Whichever tour you choose you will be accompanied by a guide and driver who will make sure that all your needs are met and provide you with information on all of the different places you will visit. Bringing your camera is essential as you will want to capture these memories to look back on when you go home.