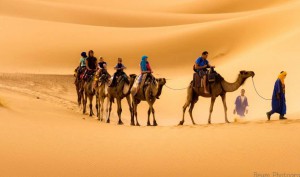 Our 7 Day Atlas Mountains and Sahara Desert Tour will allow you to experience the two extremes of Morocco's climate at a more relaxed pace.
This adventure tour will allow you to experience Morocco's vibrant culture first hand. You will embark on a challenging trek up Mount Toubkal where you will be rewarded with stunning views of the surrounding valleys. You will then swap the cool atmosphere of the mountains for the heat of the Sahara Desert where your tour will allow you to experience the Gorge du Dades; explore the Todra Gorge with its 300m high gorge walls; camel trek into the Sahara Desert and stay overnight in a Berber camp; visiting ancient Kasbahs on the way. Your adventure will start with 3 days/3 nights trekking through the Azzaden valley and over Tizi n Agelzim peak before you climb Mount Toubkal. The first two days will allow you to acclimatise with the altitude before you climb Mount Toubkal peak on the third day.
Your 4 day desert trip will allow you to take enough time to visit a lot of places on the way such as Ait Ben Haddou Kasbah, drive along the dirt road of Assif n Ounilla, visit the famous Glaoui Kasbah in Telouet and to complete the experience you will take part in a camel trek through the dunes of Erg Chebbi.
Camel trekking is a part of the tradition of the country as nomads have used camels as a form of transport for centuries. You will follow in their footsteps and travel by camel on the ridge of a dune in the late afternoon with nothing around you but sand, tranquillity and open blue sky. This is an experience that cannot be described or explained but once you have sampled it you will want to return in the future.
If you do not have enough time to complete this 7 Day Atlas Mountains and Sahara Desert Tour you may wish to consider our 5 Day Tour of the Atlas Mountains and the Sahara Desert which allows you the same experience at a faster pace.